Yesterday, in an attempt to have some fun with the kid and get out of the house, Joe and I took Maggie to Toys 'R' Us where they were having an event to launch the newest Elmo doll (which happens to play the drums and cost $75).
The event wasn't entirely what we expected. A pile of the dolls next to a table where kids could colour or play with the Sesame Street play dough kit ($19.99). I knew that it was basically a 'hey kids, demand this toy from your parents' thing, but it was alright.
However, when we walked through the store to get to this event, we passed the Halloween costumes and I noticed something that is still bothering me.
I bought the kid her Halloween costume last week – it's a lion, because one of the cutest things she currently does is roar when you ask her what a lion says. I considered buying her a Cookie Monster costume (actually, I considered making her one, but I'm not quite up on my sewing and time is a rare commodity these days).
What we saw on display yesterday was this:
Elmo costume – boys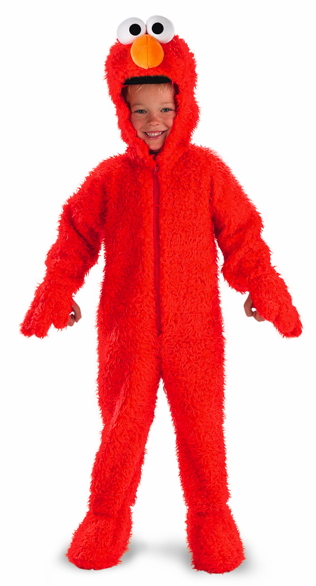 Elmo costume – girls
 Can someone please tell me why a girl needs a different Elmo costume than a boy? Or in what way a little red dress is an Elmo costume? They also have these 'frilly' versions of Big Bird and Cookie Monster.
I just don't understand. If your kind wants to be Elmo, doesn't she want to look like Elmo? I really don't think we need to create boys and girls versions of costumes that should be the same thing. This separation seems to send that message that not only are boys and girls different, they're supposed to be different, and even if a little girl's favourite character is a boy, she should still look like a girl when she dresses up as that character.